On Thursday 16th November Minister of State at the Department for Transport, John Hayes CBE MP visited Allenby Primary School in Southall, Ealing, to take part in a Primary Futures event in which volunteers from the world of engineering were broadening children's horizons around the vast range of exciting roles this sector holds.
See all photos from the event.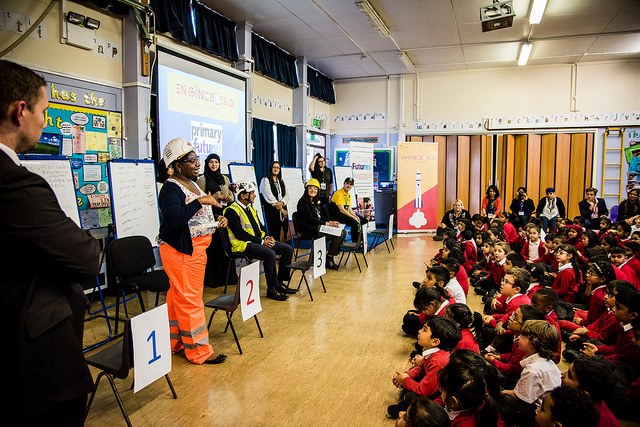 The event was celebrating the announcement of the Year of Engineering, a cross-Government campaign which aims to give thousands of young people direct and inspiring experiences of engineering throughout 2018.
The campaign will help challenge traditional perceptions of the profession and widen the pool of young people who consider engineering careers and feel excited about the sector. We want to demonstrate that a career in engineering is an opportunity to shape the future of the world we live in.
The event also aimed to broaden horizons of primary children, reduce gender specific stereotypes and help the pupils make links between their lessons and their futures, which in turn can have a positive impact upon their educational attainment. The Primary Futures programme run by our charity Education and Employers in partnership with the National Association of Head Teachers, endeavours to raise aspirations and improve outcomes, enabling every child to achieve their best regardless of background, vulnerability or disadvantage. It achieves this by giving primary aged children the chance to meet a wide range of people doing different jobs and introducing them to successful role models. And this is where you could get involved.
The event brought together a range of people – apprentices  to CEOs – who are working in the engineering sector talking with children about their jobs, enthusing them about the opportunities open to them and explaining the importance of literacy and numeracy. The ask is very simple, would you be willing to spare an hour to take part and to chat informally to children about your career route?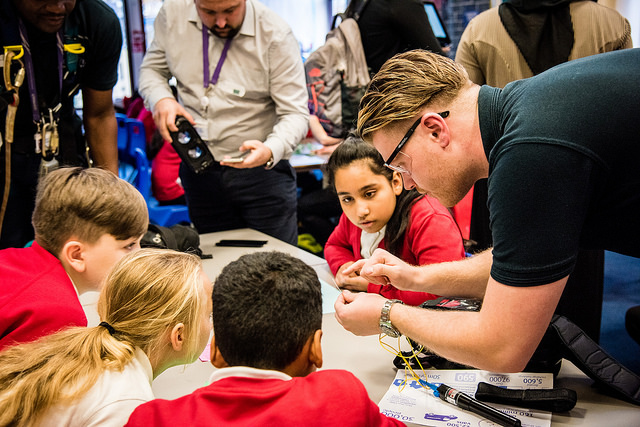 For primary aged pupils, volunteers from the world of work can help bring learning to life, show children the meaning and relevance of the subjects they are studying and how they open up possibilities for them in later life. If children see the opportunities that their school subjects can give them, then they are more likely to succeed academically. Volunteers also play a key role in providing children with role models and tackling stereotyping around both gender and ethnic background that starts in primary school.
Daniel Bishop, Head Teacher at Allenby Primary School, said: "We talk a lot to our children about aspiration, pursuing your dreams and the fact that if you work hard you can achieve anything you set your mind to regardless of your background. Primary Futures will give us the chance to bring that mantra to life. To be able to see, hear and question some of the UK's leading engineers will give our children something to aspire to. Where our school is situated not all of our children have the chance to meet Brompton Engineers or Transport for London specialists. However, Primary Futures can give us that opportunity. Events like this will inspire our children and open their minds to the fact that careers in the field of engineering do not just have to read about or seen on TV – they can be lived." 
Primary schools can sign up to Primary Futures for free or if you'd like to have a chat you can give our Primary Futures Engagement Coordinator, a call on 0207 566 4880 or drop an email to enquiries@inspiringthefuture.org.
Thank you to the following volunteers that took part:
Abena Asamoa-Bonsu – Senior Project Engineer, TFL
Louisa Augustine-Fraser – Assistant Engineer – Bridges and Structures, Hertfordshire County Council
Amy and Charlotte Brander – Structual Engineer, WSP
Bal Choda – Project Engineer, Aston Martin
Rafsan Chowdhury – Government Relations, Rolls-Royce plc.
Sarah Cooper – Head teacher, Oxford Gardens School
Ian and Amrita Duffy – Head of UK Communications and Community Development, BP
Sebastian Hirsz – Senior F1 Technologist, BP Castrol
Charles Horsey – Scheduling Services Manager, TFL
Kim Johnson – National Immediate Past President, NAHT
Masud Karim – Marine Surveyor, Maritime and Coastguard Agency
Jon Larkin – Director of Hardware Engineering, HomeServe Labs Ltd
Lord Lucas (Ralph Palmer)
Julia Muir – CEO, Gaia Innovation
Martin Ngotho – Policy Advisor
Roger Nock – Aerial Surveyors/Air Camera Operator, Ordnance Survey
Emma and Melody Palethorpe
Deborah Pocock – Executive Director, RWHA (Queen Elizabeth Scholarship Trust)
Philip and Mark Pratley
Diane Rainbow – Childcare Providers and Regulation, Department for Education
Grace Reidy – Year of Engineering Programme Manager, TFL
Christian Rossiter – Propulsion and Composites Technician. Surrey Satellite Technology Ltd
Disney Schembri – Account Management Assistant, Siemens Rail Automation Holdings Limited
Helena Stolle – Freight and Fleet Project Manager TFL
Alexandru and Miguel Voica – Head of Technology, PR and Communications, Ocado Engineering
James Westhead – Executive Director of Communications, Development and Technology, TeachFirst
Roshni Wijesekra – CFD Analyst / Fire Engineer, AECOM
Maria Wright – Ealing Council