Chief Pharmaceutical Officer's Clinical Fellow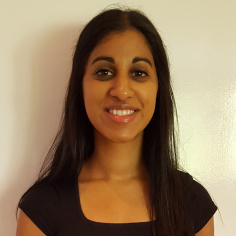 Amita volunteers on our NHS ambassadors programme and is motivated by her desire to increase young people's awareness of jobs in pharmacy and help them in making informed career choices for the future.
We spoke to Amita about her experience volunteering at a school in Hackney, how she prepared for the activity and the joy of seeing children interested in the world of pharmacy.
Why did you get involved? 
I decided to volunteer with Inspiring the Future as I am really proud to be a pharmacist and am passionate about my profession. Pharmacists' roles are changing and becoming more patient focusing and I think it is important to address misconceptions about the role and for students to hear about the impact we have on patients and the exciting opportunities there are for pharmacists.
I thought this was a great opportunity to raise awareness of this to students considering their career choice.
Tell us about a recent activity you took part in 
I recently participated in a virtual NHS careers chat with year 12/13 students from Haggerston School in Hackney where half of the session was delivered by me and the other half by a dietician.
I delivered a short presentation explaining the three different roles within a pharmacy team: pharmacists, pharmacy technicians and pharmacy support staff. I then went on to do some myth busting followed by my personal journey and a Q&A session with the students – it was great to see their interaction and engagement!
How did you prepare for the activity? 
I put myself back into the shoes of when I was deciding my career choices and considered what information would have been useful for me. As visual aids can help retain information, I decided to make a fun PowerPoint that would be engaging and exciting for the students.
What was the best part about the activity for you? 
The best part was seeing the students engage and be interactive. The questions they asked showed that they had been listening and it was wonderful that they were interested in pharmacy.
I think I made a real difference as I was able to highlight three different roles within pharmacy, each with a different entry route such as going to university or taking part in on-the-job training. I think this helped to show the different opportunities within pharmacy depending on their preferences.
A huge thank you to Amita for sharing her experience of being an Inspiring the Future volunteer!