Line Certifying Engineer and Licensed Aircraft Engineer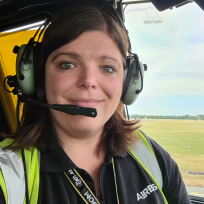 Steph discovered Inspiring the Future through a network contact and now regularly shares her career journey with young people at local in-person activities as well as virtually with children across the country. 
We spoke to Steph about being a relatable female role model in the aviation industry and what the process of signing up and volunteering is really like.
Why did you get involved? 
This kind of careers support didn't exist when I was at school. When I was at school women were advised not to look at stereotypically male career paths such as aviation and engineering, so my motivation for volunteering is to make sure girls can see someone they identify with in that line of work.
I also want to help young people understand what aircraft engineers do as it's probably one of the more unknown jobs within the aviation industry.
Talk us through the process of becoming a volunteer and attending your first activity 
I signed up and not long after received an invitation for a virtual activity in my inbox on the Inspiring the Future platform. I accepted the invitation and was contacted by the activity organiser. We exchanged a few emails back and forth where I found out more about the school, the activity itself and what was expected from me. I received a calendar invite for the session and on the day of the activity, I joined the other volunteers for a welcome briefing just before the activity was due to begin.
I have received quite a few invites from schools, but I believe you can also use the platform to seek out your own opportunities as well.
Tell us about a recent activity you took part in 
Most recently I took part in a virtual careers chat with a Year 6 class. The session began with a warmup activity where the children were each asked to think of a job that began with the first letter of their name. We then had 5 minutes each to talk about our jobs, what we do and how we got there. This was followed by us taking questions from the creative minds of Year 6 pupils.
Throughout the activity the teacher panned the camera around the classroom so we could see all the children and they also waved to us at the beginning and the end of the session. It was nice to see them so engaged that they could come up with such imaginative questions. With the younger students, they liked that I had grown up flying planes since I was 10.
A huge thank you to Steph for sharing her experience of being an Inspiring the Future volunteer!