Morpeth School Sixth Form are broadening the horizons of their students by introducing them to the range of jobs and many different routes into them with an annual 'Why I Love my Job' day. Find out how and why, and if your school can relate to their story get in touch [enquiries@inspiringthefuture.org] to find out how we could support you with arranging an inspiring event for your students.
Why do you use Inspiring the Future?
Many of our students are second generation Bangladeshi Muslims whose parents often have no English. With families that often have very traditional expectations for them in terms of careers, and we hope that by organising events that give them the opportunity to meet and talk to a range of exciting people from different careers we can broaden their horizons.
What do you use Inspiring the Future for?
Mainly for our annual event, 'Why I Love my Job', which has been ran for five years but also for ad hoc sessions organised by our careers and partnerships manager.
Tell us a bit about 'Why I Love my Job'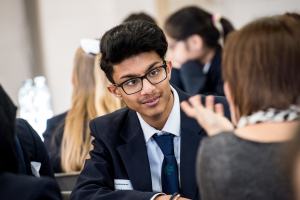 The catalyst for this event was a conversation with a student who was genuinely bemused that it was possible to have a job that you love rather than just did to earn money. It's part of our continuing emphasis on developing their cultural and social capital to allow them to be on a par with students from more privileged backgrounds when it comes to applying for university.
We invite several interesting volunteers from a range of jobs to take part in 'Why I Love my Job'. Students can meet with people who have taken different pathways and chosen different careers and still managed to be successful.
We asked participants to be frank about the journey they have taken to reach their current role, what ideas they had about what they wanted to do when they were their age (16/17), any obstacles that they had on that journey and how they overcame them.  The students are endlessly fascinated by the fact that adults were once young people themselves.
The students largely love this event, it's a great chance for them to be exposed to a wide range of career options in a short space of time.
What has been the impact of the events you have organised through Inspiring the Future?
It engages students to think about their futures and their career choices and we have had many requests for further time to meet volunteers to talk on a one to one basis.