Inspiring the Future is working with the Department for Business, Energy, and Industrial Strategy to showcase to secondary school pupils the exciting range of career opportunities for women in STEM.
At an event today called Growing your Stem, volunteers, who were all senior women in their roles, spoke to young women from schools sourced by Inspiring the Future about a variety of careers that use STEM skills such as in the UK Space Agency, renewable energy, or economics.
Keynote speaker, Dr. Alice Bunn from the UK Space Agency said, "Stem skills like critical thinking and logic can take you to a whole range of rewarding careers"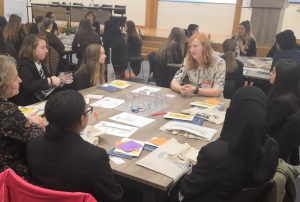 Challenging gender stereotypes about careers for women is a purpose right at the heart of the Inspiring the Future programme. Our Inspiring Women campaign has already involved nearly 25,000 amazing women who have spoken to girls in state schools about the jobs that they do.
The event itself included lots of fun and educational activities such as speed networking which will give the girls an opportunity to meet a broad range of volunteers from a range of different jobs in STEM, ask and be asked questions, to show them the vast array of opportunities that are available to them if they are given the tools to grasp them.
The event also included a soapbox session which commemorated the centenary of some women getting the vote by recreating their use of soapboxes and gave the students an opportunity to develop their public-speaking skills. On top of this, there will be a number of workshops designed to showcase experiences ranging from mock UN climate negotiations to ministerial briefings to dealing with a cyber-attack. All of which will encourage critical thinking in the pupils and stimulate their minds to think about the practicalities of working STEM.
If you are interested in sharing your experience of working in a STEM career with young people, or if you are a school who wants to invite volunteers from STEM jobs to your school to talk to your student, please sign up to volunteer with Inspiring the Future at the top of this page.