We returned to Hornsey School for Girls for another Career Footsteps event designed to open young people's eyes to alternative routes into the world of work, such as apprenticeships and vocational routes.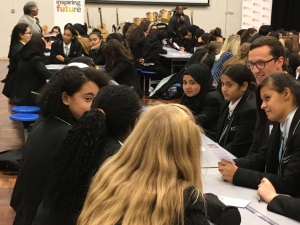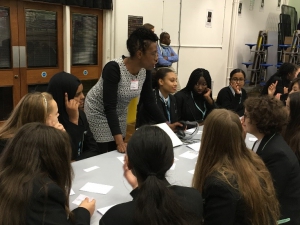 Volunteers included an Olympic Rower, a Chief Procurement Officer, a Technical Solutions Architect and a Diversity & Inclusion Support Lead. Students and volunteers took part in 'career speed networking', giving the young people the opportunity to ask volunteers their questions to find out more about their unique route into the world of work.
Hornsey School for Girls helped us to launch the Career Footsteps programme, run in partnership with the Edge Foundation, and have since developed continuing relationships with the employers who visited their school, even attending a careers day at the University of Westminster Psychology Department organised by a volunteer.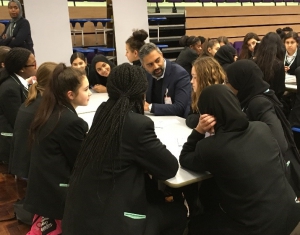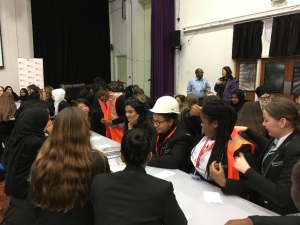 In her welcome speech, headteacher Kuljit Rahelu reminded students that "you are the country's best creative force".
Volunteer Aaliyah Jaffer said:
"Having completed a GNVQ Advanced in Information Technology followed by a BSc in Business Information Systems equipped me with a variety of skills, specifically good written, verbal, presentation and analytical skills, enabling me to write strategic reports requesting financial approval for projects and presenting to a diverse range of stakeholders. It has provided me with a foundation to the necessary behaviours and ethos to working within TfL."
Volunteer Praful Vagjiani said:
"Thinking about the years when I was of a similar age, I remember lacking awareness & motivation when it came to thinking of career choices.  It was a difficult time.  I've been blessed to come out the other side relatively unscathed and so I want to contribute where I can by providing advice and guidance at this critical time in a child's life.  The day at Hornsey School for Girls was both insightful and meaningful for me, and hopefully the children!"
Volunteer Bal Panesar commented:
"Indeed my advice to all the students was do the subjects that you really like doing, especially at A level and university."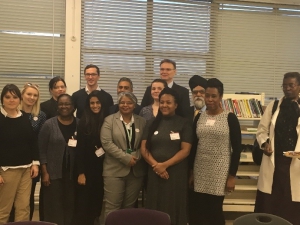 To find out more information, you can get in touch with the team on 0207 566 4880 or drop an email to enquiries@inspiringthefuture.org.