Become an NHS Ambassador and join the thousands of passionate NHS staff who are inspiring future generations to consider a career in Healthcare. Since the campaign began in 2018 our NHS Ambassadors have interacted with over 400,000 young people through Inspiring the Future.
What's it like volunteering as an NHS Ambassador? Have a look at how it all works:
NHS England have teamed up with Inspiring the Future to get more NHS staff connecting with school children of all ages on a regular basis, talking about the breadth of interesting roles available and answering questions about their jobs. NHS Ambassadors take part in activities such as assemblies, speed networking, career days and many more, alongside interactive virtual sessions to connect with young people online.
We are very pleased to see NHS Ambassadors mentioned in the NHS People Plan 2020/21, which sets out the vision of the organisation and key goals for the workforce. NHS organisations and systems are encouraged to promote the Ambassador scheme to enable staff to inspire the next generation.
Find out more about the role in our NHS Ambassadors FAQs.
It was brilliant to have our NHS Ambassadors partnership recognised by the Charity Times Awards and shortlisted for their Charity Collaboration of the Year 2021. Congratulations to our ambassadors for this fantastic achievement!
The impact of the programme was highlighted in the 'NHS Ambassadors: How you've helped over 400,000 young people' report, published last year, in which over 90% of NHS Ambassadors said they would recommend the programme to others. NHS Ambassadors reported many benefits including:
Value they felt they brought to young people
New skills or experience gained
A sense of challenge and achievement
Increase in their own confidence
Feeling part of a community
Do you have at least an hour per year to inspire the next generation of the NHS?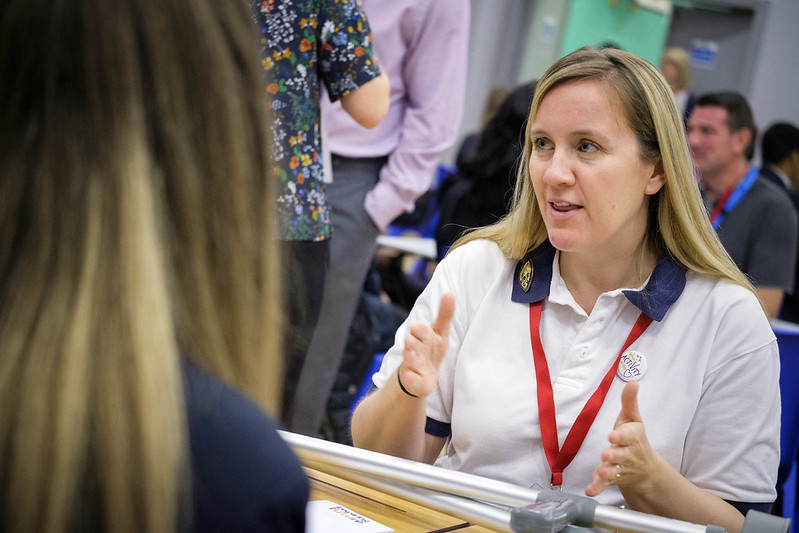 "Imparting my passion for working in healthcare and how much can be achieved in many different ways may open the minds of young people to explore the possibilities."

Una Madill, NHS Ambassador
Discover the wide range of NHS-related resources you can use in schools:
If you have any queries, please contact the Inspiring the Future team.
Let's get NHS Ambassadors on the Board
We want NHS staff, who are passionate about what they do, to join school governing boards and make a real impact on the lives of young people.
Want to make a difference in your community, and develop your own professional skills? By volunteering as a school governor or trustee, you can do both.