One sunny morning in Leeds the year 10 students at Cockburn School were getting ready to prepare for the world of work. With work experience on the horizon, they had the opportunity to meet several volunteers in a speed networking session. This event was designed to give students a deeper understanding of the different careers available to them.
Speed networking gave students the opportunity to meet many passionate volunteers from a range of sectors. Dance, IT, and finance were just a few among the many represented. The students even got let in on some trade secrets, like Coke Zero was designed for a male audience!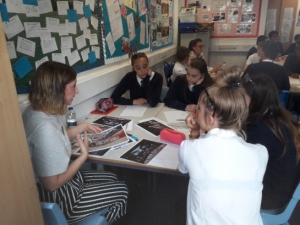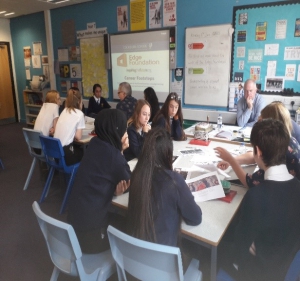 Three rooms across the school hosted twenty volunteers. Rooms were filled with the chatter of volunteers sharing their paths, as well as tips to support students in crafting their own paths. One volunteer could be heard quoting "60% of jobs in the future have not been created yet". Students left having realised the importance of following their own passions and to be adaptable to the future. Interesting career insights could be overheard, including an introduction to HR as "the main qualification of working in HR is a bit of common sense and not panicking!".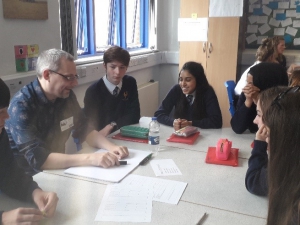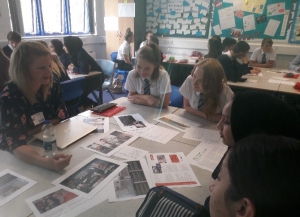 Student feedback included:
"It was really good to hear about other people's work background and it was nice to see that you can still succeed without university"
"I enjoyed learning about different careers that I had not heard about before, this event has inspired me to think about different careers".
Lots of students were impressed to see so many volunteers so open to discussing their career stories with both the successes and failures. It helped them realise that resilience and adaptability are crucial. At the end of the session students left pondering what their future will look like, and how to make their work experience placements beneficial.
This day was delivered under the Career Footsteps programme, run in partnership with the Edge Foundation, and aims to open students' eyes to the wide range of routes they can take into the world of work with a focus on vocational and technical paths. The programme is open to all schools across the county and is completely free to use. Check out the Career Footsteps page for more information or contact us at enquiries@inspiringthefuture.org for direct enquiries.
If you are interested in becoming a volunteer, please sign up at the top of the page.