On Monday 4th and Wednesday 6th May, two of the first virtual interactive Inspiring the Future sessions took place. In total, 44 Year 7 and 8 students from Hope Academy in St Helens took part in the Career Chats activities, where three volunteers talked about their careers before answering questions from young people attending on the online platform. 
When Hope Academy teacher Charlie Wignall found out about the new remote sessions from Inspiring the Future, he was keen to get involved as an alternative to in-school plans and to motivate students studying from home. "[The students] don't have full access to our usual careers learning, such as workplace visits and placements", Charlie told us. "The virtual sessions provided an exciting opportunity for our students to meet volunteers and ask questions about their career paths. It was also refreshing for the students to have a change of activity." 
Before the Career Chats took place, the Inspiring the Future team talked to Hope Academy teachers about the format and content of the sessions, how they could be tailored to different year groups, and discussed technology and safeguarding preferences. Charlie said, "I found it helpful that I was able to raise my concerns around safeguarding during our planning call. It was also helpful to be provided with the Safeguarding Statement and teacher/student guides, which I could share with colleagues and parents." 
At the beginning of the 40-minute sessions, teachers and volunteers were introduced to one another on the online platform and Inspiring the Future facilitators talked through the schedule. After welcoming students onto the platform and ensuring all young people's videos were off and microphones muted, volunteers began presenting their career stories via video, tailoring their talks and advice to the ages of students. The young people heard from volunteers representing a wide range of roles, levels and sectors; from fashion to construction, brand management to coaching. Each volunteer presentation was followed by time for insightful questions from the students, who engaged with volunteers by typing their queries into the chat box. Questions included: 
"Can office jobs be fun?"

 

"What subjects inspired your job?"

 

"Did anyone in your previous jobs inspire your next job?"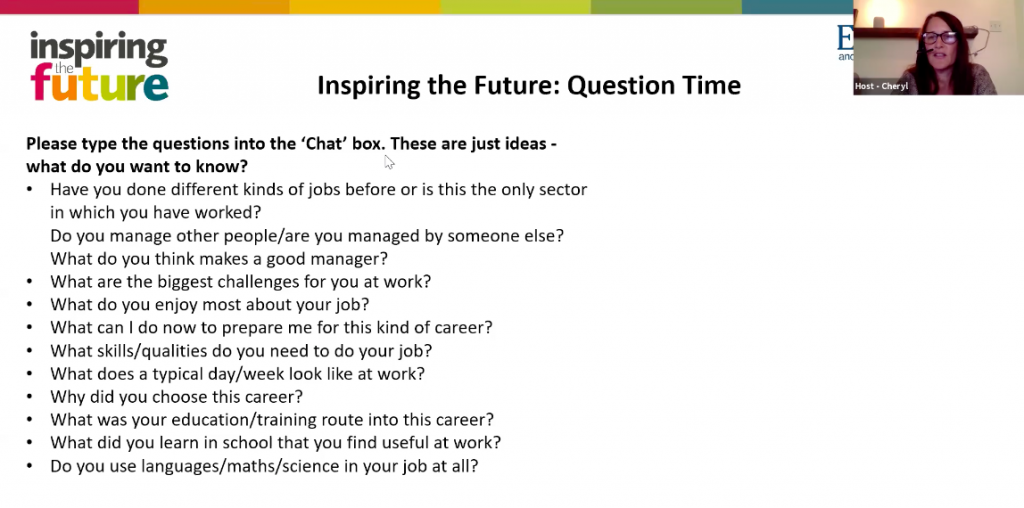 Alongside these questions, polls and quizzes ran during the sessions to engage students throughout. 
The volunteers ended the chats on a motivating note with their top tips for students, such as advising young people to try out new things, break down large problems into smaller, manageable tasks, and to never give up. 
Finally, students, volunteers and teachers provided feedback to encourage them to reflect and to measure the impact of the session.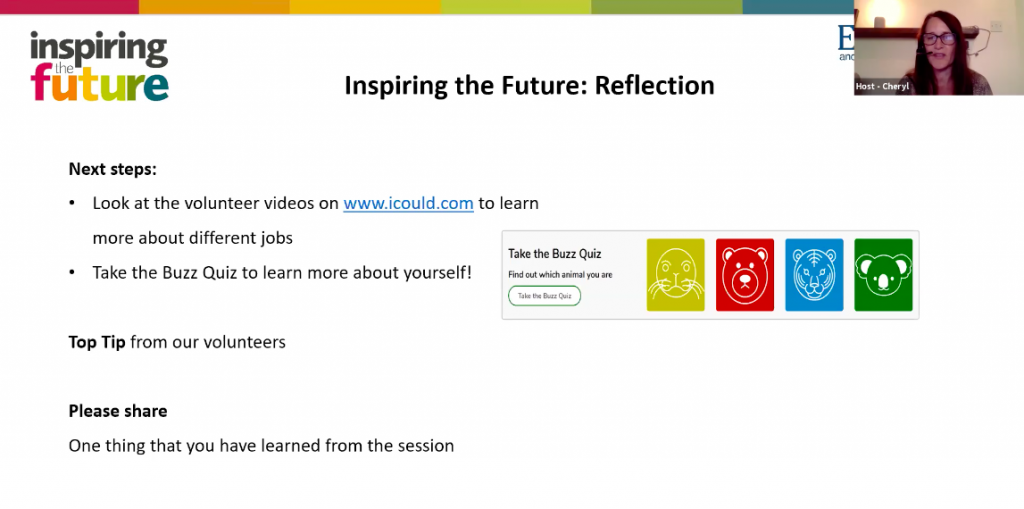 When asked about what they had learnt from the sessions, young people wrote: 
"I learnt that you should have listening and communication skills."

 

"I have learnt that you don't have to be an A* student, but if you put your mind into 

something

 you're passionate about, everything will be ok."

 

"There are different pathways to achieving your goal – if one fails that's not the end, there are other pathways you can take to be successful."

 

"How important school subjects such as maths, English, and science are in order to follow your career choice."

 

"There is a variety of different jobs in the world and I don't have to settle for one at a very young age."

 
Charlie felt that the sessions had helped to ease students' anxieties around the current situation, commenting, "There has been a lot of news about people losing their jobs or being furloughed. We're not sure to what extent this is impacting our students, but the virtual career chats were an important way of reminding students that there are still opportunities out there. We feel that this has given them motivation and a focus to work hard despite the current circumstances." 
Charlie has since booked in two more sessions with year 9 and 10 students in the coming weeks.