Technical Account Manager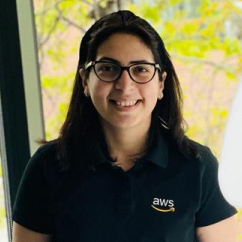 Nisha works for Amazon Web Services (AWS) and signed up to Inspiring the Future to share her insights as someone who entered the tech industry through a non-traditional route. She's keen to make young people aware of similar opportunities available to them and to pass her passion for tech onto the next generation. 
We spoke to Nisha about her motivation for getting involved, how she prepares for an activity and the rewarding feeling of giving back to her community.
Why did you get involved? 
I wanted to take the opportunity to share my career journey with students and to inspire them by discussing the challenges I have faced and how I have overcome them to get to where I am today.
I also wanted to address the myth that coding is essential to get a job in IT. I entered the tech industry through a less traditional route, and I think it's important to raise awareness of the alternative routes young people can explore, such as hardware engineering and operational support.
What activities have you taken part in? 
I have participated in a number of sessions in schools across the UK including a 'Women in STEM' activity, a 'Careers Carousel' and a 'STEM Futures Day with Robots', where I've connected with young people aged 9 to 16 years old.
Talk us through how you prepare for an activity and what happens on the day 
Prior to each session, I work with the teachers and organisers to learn about the cohort so I can deliver content that is tailored to the group. The key part of my preparation is making sure I can clearly explain my job in a simple and engaging way. One of the most effective methods I've found is using a video to help students visualise what I'm talking about and bring complex concepts to life.
I begin each session by introducing myself, and then providing a brief overview of my role, what it involves, what my career path has been so far, and the soft skills essential to my current role. I then answer any questions the students might have. For some sessions, we also include a short activity (time permitting) which introduces the students to concepts such as cloud computing and algorithms.
What is the best part about volunteering for you? 
It's so rewarding to inspire the younger generation and give something back to the community. It is also fun answering interesting questions from super curious students, and seeing the faces of young students brighten up when they realise how technology is impacting their day-to-day lives.
A huge thank you to Nisha for sharing her experience of being an Inspiring the Future volunteer!