Last night, members of the Education and Employers team were honoured to attend the 2018 L'Oréal-UNESCO For Women In Science Fellowship awards. The Fellowships are awarded by a partnership between L'Oréal UK & Ireland, the UK National Commission for UNESCO and the Irish National Commission for UNESCO, with the support of the Royal Society. They award five Fellowships annually to to outstanding female postdoctoral researchers.
The awards commenced with a panel of inspiring spokeswomen who discussed and answered questions on how we can support and encourage the next generation of female scientists. On the panel was the 2018 UK Laureate Professor Dame Caroline Dean, the Director of the UK National Commission of UNESCO Zamila Bunglawala, Founder of The Female Lead Edwina Dunn and Head Teacher of Barham Primary School and Inspiring the Future representative Karen Giles.
Over the past year, Inspiring the Future has been working with L'Oréal to pair inspirational women with primary schools to help instil a love of the sciences at a young age, and to excite them about the possibilities of a science-based job. Our Drawing the Future report, published earlier this year, found that children's aspirations are shaped by the gender and who they know. We need to challenge this by showing young girls they can achieve whatever they want regardless of their gender, by providing the opportunity for them to meet inspirational female role models.
Amid the fantastic posters by PhD students, showcasing their incredible achievements in advancing scientific knowledge, were some blown up copies of pictures drawn by children as part of our Drawing the Future report and competition. Throughout the evening, our programme and how it can help to inspire the next generation of women in science was discussed with individuals. We were thrilled with the positive reception both the drawings and Inspiring the Future received. Many inspiring women signed up to visit a primary school and raise children's aspirations, by showing them that a career in science is not out of their reach regardless of background or gender.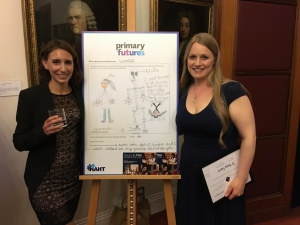 Two of this year's winners, Dr Nicky Farrer and Dr Lucia Prieto, with one of the Drawing the Future drawings.
If you would like to join the 500+ women from science who have already signed up to give just an hour of time to visit a local primary school and inspire the next generation of women in science, visit the campaign page here to find out more and sign up.