National Careers Week saw exciting careers activities running with schools and colleges across the UK.
Activities of course looked different this year, hosted virtually instead of face-to-face with young people tuning in from their school classrooms and from their devices at home. We know the strong impact virtual sessions can have, and National Careers Week didn't disappoint. Have a read of just some of the activities that occurred, alongside young people's feedback and comments from teachers and volunteers. 
On Monday 1st March, 100 sixth form students from Haggerston School in London heard valuable insights from two NHS workers during their Careers Chat on jobs in health and social care. Amita, Chief Pharmacist Officer, and Sophie, Acute Adult and Stroke Specialist Dietician, talked to the young people about their day-to-day work and the career paths they took into healthcare. 
Hear how volunteer Amita and the teacher found the session: 
"Great opportunity to interact directly with students and educate them not only on my role but the wider pharmacy team! Volunteering is important to me as students are the next generation and the future of our profession! Gaining their insights and reflections is so important." – Amita 
"This morning's session organised by inspiring the future with staff from the NHS such as Sophie and Amita was insightful, engaging, informative and a great way to kick off #NCW2021. Thanks everyone for giving up the time to prepare such an outstanding event for our students" – Teacher, Haggerston School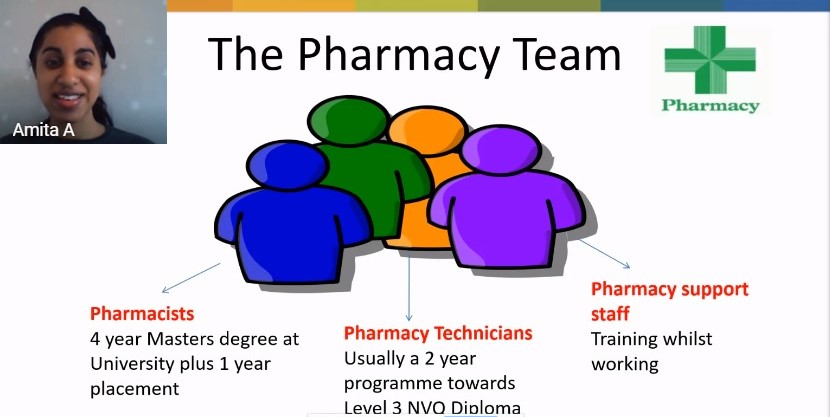 On Wednesday 3rd March, 300 young people from over 10 schools across the UK tuned in to our live virtual 'Pathways into STEM' events. The post-16 sessions enabled students to hear from an exciting panel of volunteers working in STEM roles, learning about the pathways they took to get into their careers and the skills they developed along the way. Across the two sessions, students heard from: an Advanced Nuclear Innovation Policy Officer from the Department of Business, Energy and Industrial Strategy; a Chartered Principal Engineer from Rolls Royce; a Graduate Chemist from BP; a Plant Health Advisor at RHS; Associate Director of Finance at Gilead Sciences; a Principal Mechanical Engineer at Institution of Mechanical Engineers; a Technology Graduate at Sky and a Senior Inspector of Aircraft Accidents from the Air Accidents Investigation Branch.
Feeding back on the session, students shared the following: 
"I learnt that what you do in university may not be exactly what you do as a career."

 

"I feel more confident in the choices I am making."

 

"While I learned a lot about each of their jobs and how they got there, what stuck out to me the most was how each one of them said they got to where they were today by being bold, outspoken and asking for what they wanted at the time."

 

"I learnt that finding a job in STEM isn't just going through University and immediately applying, it can be useful to scope out your options and even take short jobs in different companies until you find something that you are passionate about or an atmosphere which you enjoy."

 

"I felt inspired, they talked with lots of 

passion

 and I hope someday I can talk with same passion as them."

 

"It gave me hope because it made me 

realise

 that I can branch into many different careers."

 

"I learnt that your A-level grades don't predict your future and that there are multiple different pathways in 

STEM

"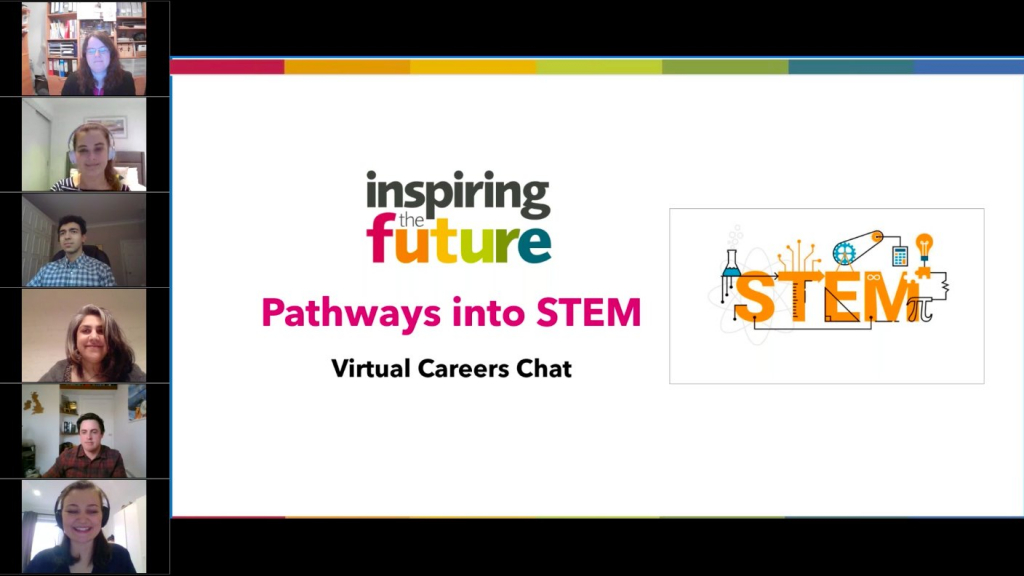 Wednesday and Thursday also saw two sessions with volunteers from Bank of America at Central Foundation Girls School and Luton Sixth Form College. On Wednesday students took part in an Inspiring Diversity Careers Chat, hearing from volunteers across the bank in roles including: Assistant Vice President – Senior Auditor; International Technical Manager; Vice President – Audit Manager; Communications and Engagement Specialist – Global, Technology and Operations; Vice President – Audit Supervisor. 
One question from a student was: "What advice would you give to young students who are journeying to their future selves?" 
Volunteers gave their responses: 
Neeraj – 'If you have this idea of what you want to be and you don't manage to achieve that, there is disappointment, but it is always good to have a goal in life, it's important to know where you want go next so you're working towards something. Try to see what really drives you internally – at the end of the day you don't want to do a job you don't like. Dig deep, find your passion, it can make many years of trial and error, but the key thing is to find your passion'. 
Sajana – 'For me, it's about looking for that opportunity and always be willing to try something new. Don't be scared of anything and give things a shot. Follow your dreams, rather than something that you think is just the right thing to do. If you're enthusiastic about something, you'll do well' 
There was some great feedback from young people following the session, including: 
"I learnt that you should never give up and that there will be moments where you fail but you have to still carry on. Hearing other people's points of view of the world of work and all the helpful advice".        
"From the webinar, I learnt that you should work hard and take any opportunity that comes your way and also to enjoy your journey".  
"The thing I found most useful was being able to hear from people that have actual experience".  
And Careers Leader Dr Claudette Bailey-Morrissey commented: 
"It was brilliant! I absolutely loved it! They were inspiring and definitely made me think about my own goals and career." 
Further virtual activities included: 
Careers in Design Insights Talk

 

Technology Careers Employer Panel

 

Aviation and Transportation Employer Panel

 

Creative Industries Panel

 

Virtual Careers Fairs with a range of employers

 

Inspirational Talks to encourage 

motivation

 

Activities using 

short pre-recorded

 videos for a snapshot of volunteers' roles across 

sectors

 
Inspired? It doesn't have to be National Careers Week for you to plan an exciting aspirations-raising activity. Visit our virtual sessions page to get started now – we're here to help.  
You can still access our pre-recorded Inspiring Women Careers Chats exploring the sports industry and entrepreneurship. Log into your portal and select your preferred resource on the right-hand side.  
If you're not yet signed up with us, you can create an account here. It's free, you can create unlimited careers activities with our pool of thousands of diverse volunteers, and we provide resources and support.