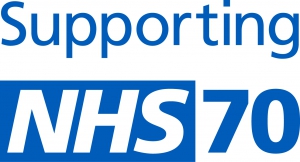 As part of the NHS 70th birthday celebrations, NHS England, NHS Improvement and Health Education England have teamed up with Inspiring the Future to get more NHS staff into schools on a regular basis talking about the breadth of interesting roles available and encouraging school children of all ages to consider a career in the NHS.
NHS Ambassadors will help illustrate the connection between what students are studying in the classroom and the potential job opportunities available in the NHS.  It is also an opportunity to highlight the role science, technology, engineering and maths (STEM) subjects have for some professional careers in the NHS.
Information for NHS Staff
We're looking for more NHS staff, from all levels to register and commit to a minimum of an hour a year to go into local schools and colleges and talk about their job and the educational route they took to get there.
Ambassadors will be able to demonstrate the diverse range of jobs that are available within the NHS.  You may be contacted by primary schools all the way up to sixth form colleges and it's up to the school and yourself to plan the activity. You'll be provided with access to materials to support you and tips about going into schools and engaging children and young people.
Signing up is simple:
Use this link to register as an NHS Ambassador with Inspiring the Future and complete our quick registration process adding the postcodes you can volunteer from and information about your role
Select 'Career Insights' as an activity and any other activities you are interested in
Once registered, you will receive an email with more information
Respond to invitations from schools that will arrive directly to your inbox and use our interactive maps to search for opportunities near you
Connect with the teacher to plan your activity, whether that's giving a classroom talk, participating in a careers carousel with other volunteers or delivering an interactive workshop
If you have any queries please contact the Inspiring the Future team.
Information for Schools:
If you are a teacher and would like to invite local NHS Ambassadors to come in to your school or college to talk to your students, you will need to be registered with Inspiring the Future.  You can sign up here.
Once registered, please log in to your Inspiring the Future or Primary Futures account. You can then search for volunteers local to your school using our interactive maps and filter using the sector 'Healthcare'.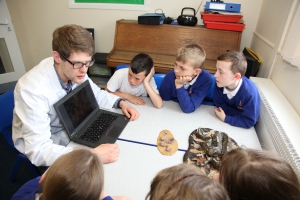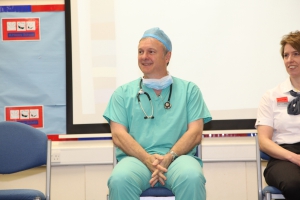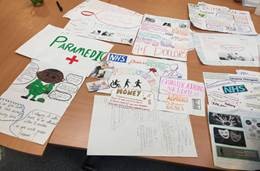 Update
Over 1,000 NHS employees have signed up to be an NHS Ambassador since the launch. They have been visiting local schools and inspiring young people about the range of careers available in the NHS. A selection of them have shared their story with us in which they outline their job and why they support this fantastic campaign, click on their photos the read their stories: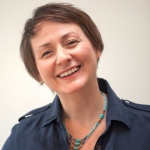 More volunteer stories, from both NHS Ambassadors and volunteers from other sectors, can be read here.
Celebrating the NHS turning 70
We celebrated the National Health Service (NHS) turning 70 this year with an inspirational event in Manchester on Tuesday 17 July. It provided an opportunity to recognise and thank the extraordinary NHS staff and to inspire the future NHS workforce. Read more about the event here.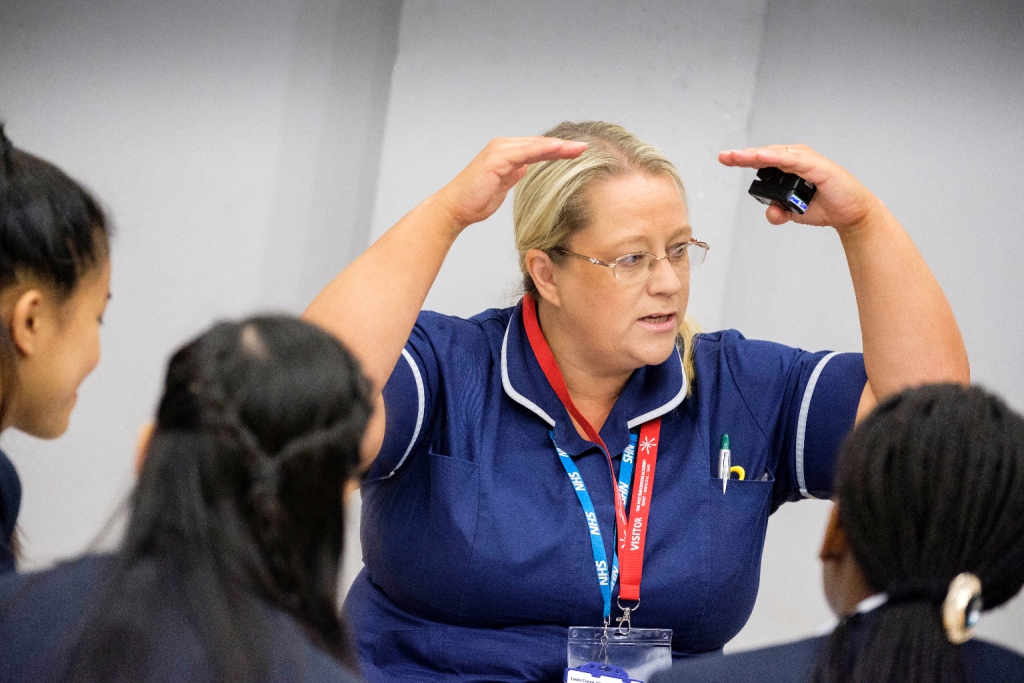 Simon Stevens, Chief Executive of NHS England said about the campaign: "As the NHS turns 70 this year, we can rightly be proud of the enormous contribution it has made to our country. But it is absolutely vital we inspire young people to think about working in the NHS and to take up the vital STEM subjects that will equip them for rewarding careers in the future workforce of the NHS."
Katy Hampshire, Director of Operations and Programmes at the charity Inspiring the Future, said: "We're delighted to be supporting the NHS in its 70th year on this initiative. We have a great track record of supporting employees from all levels from the NHS to connect to schools and colleges across the country. With over 1,800 NHS staff already registered with Inspiring the Future, we look forward to supporting them, and many more in helping young people to see the breadth of jobs available within the NHS and make the link to what they are learning at school."
Our sister charity, Speakers for Schools  is also working with the NHS to help state secondary schools inspire their students and broaden horizons through access to the insights, experiences and expertise of today's high profile, influential leaders through talks and more – free of charge. Speakers for Schools talks are more appropriate for larger groups or assemblies.
Ashley Hodges, Executive Director of Speakers for Schools said: "We are thrilled to be supporting the NHS's 70th birthday by helping NHS leadership get into schools across the UK, celebrating not only its amazing contributions to Britain since its foundation, but also the array of specialists, innovators and outstanding individuals that make their work possible.
"We hope this will help students see the amazing amount of opportunity available in the healthcare sector, from bio-medicine to therapy and support roles, and spark new interests for their future."
Since 2015, Inspiring the Future has been working with NHS staff volunteers who go into schools to talk about their jobs and inspire children to follow a career in the NHS. Read about our Who's in Health campaign here: Leadership Focus article Who's in Health 2015