Schools and colleges are utilising our huge network of volunteers, our suite of resources and on-hand support to provide virtual employer encounters that are meaningful and meet Gatsby Benchmarks.
Developed with teachers and careers leaders, there are a number of ways to use Inspiring the Future and icould to support young people to have meaningful encounters with employers and employees (Gatsby Benchmark 5) and virtual experiences of the workplace (Gatsby Benchmark 6), among other benchmarks. Our new 'Ready Set Motivate' guidance walks through how to fully exploit the Inspiring the Future database of thousands of virtual volunteers to meet the 4 minimum criteria for making Gatsby Benchmark 6 meaningful, to allow schools to flexibly embed an impactful and engaging virtual work experience programme.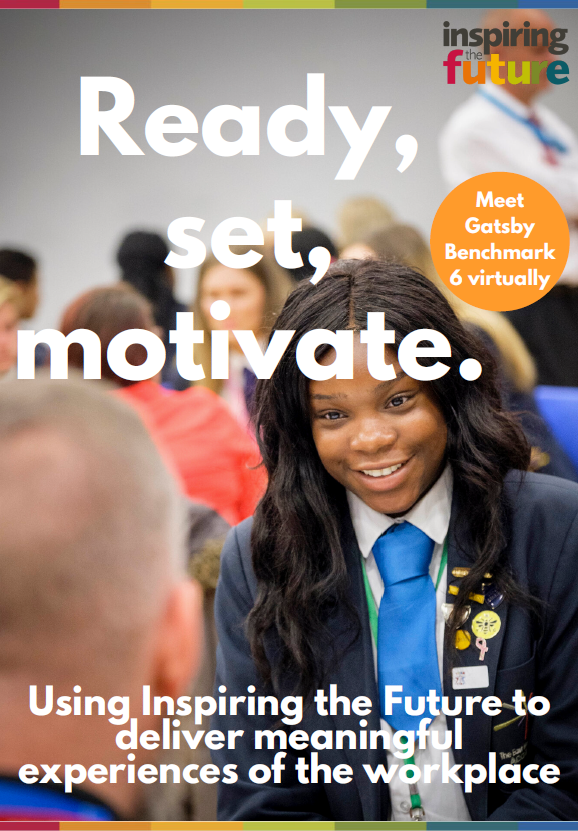 Access our new step-by-step guidance and accompanying webinar to organise virtual experiences of the workplace.
Using Inspiring the Future to meet Gatsby Benchmark 5 virtually:
Access our 

Teacher CPD webinar: Creating Meaningful Virtual Encounters here

 that runs 

through a simple step-by-step demo

nstration of how to create virtual interactive

 sessio

ns and 

explore other schools' examples of sessions

 that

 you can plan to meet Gatsby Benchmark 5

 

Consider the learning outcomes for your students and then set up your virtual interactive activity on Inspiring the Future. Invite volunteers  – go wild, we've literally thousands of people 

ready to inspire your students

.

 

O

ur recent signups include someone who manages major sporting events for the UK to a critical care nurse at a hospital and everything in

 

between. You can access volunteers who work locally to your school and/or those in sectors and areas of the UK you wouldn't normally be able to meet. 

 

Prepare students for the activity using the resources on the portal and access to videos on icould.com

 including the Buzz quiz which helps students consider their strengths and potential careers linked to these.

 

 

Hold you

r

 online activity with volunteers – 

by 

asking questions 

in real time live events,

 

students get that two-way interaction

. Finish up with some reflections, enabling your students to record what they've learnt as part of Compass.
Using Inspiring the Future to meet
 Gatsby Benchmark 6 virtually: 
We have created new guidance to enable school & college staff to provide virtual experiences of the workplace. Ready Set Motivate has been created with the Careers & Enterprise Company's #MakeItWork guidance in mind, and outlines how you can use Inspiring the Future to meet benchmark 6. View the full guidance here.
Watch our Ready Set Motivate Webinar: Using Inspiring the Future to deliver virtual experiences of the workplace, where we launch this virtual work experience guidance, explore what virtual workplace encounters you can organise with employers, and hear what other schools are doing to creatively meet this. Watch a recording of the webinar here. 
Tips for meeting this benchmark include:

Meet the needs of your students by defining the learning outcomes of your encounters and using the Inspiring the Future portal to search for relatable role models.
Meet a range of employers by organising live virtual encounters, exploring videos from range of job types on icould and accompanying this with Inspiring the Future pre-recorded activities.
Provide two-way interaction by asking students to prepare questions before your encounter and utilising the chat function during an activity.
Get students to complete a task and receive feedback on it from the employer by choosing a task from our menu of work-related tasks and creating a virtual activity for employers to feedback on said task. Tasks could include:

For a marketing or communications role, design a new brand for your school or college with a new name, logo and slogan
For a HR/management role, create a plan for a virtual team-building day for your team as if you are co-workers that are working remotely
"I think the guide is excellent. From running similar employer events and reading VWEX guides I think your guide is one of the best. It is clear, sequential and I really like the real-life examples." – Lorraine Petherham, Ursuline High School Wimbledon
What are the Gatsby Benchmarks and how can we help evidence them?   
The Department for Education adopted the Gatsby Benchmarks as the benchmarks of best practice careers provision.  With a network of thousands of employee volunteers from the world of work and our additional offers via projects for schools, Inspiring the Future can help schools to evidence their alignment with five of the benchmarks, detailed below.  
Careers is given a high profile in the new Ofsted inspection framework taking effect from September 2019.  Inspectors will judge whether the school is providing an effective careers programme in line with the government's statutory guidance on careers advice that offers pupils: unbiased careers advice, experience of work, and contact with employers to encourage pupils to aspire, make good choices and understand what they need to do to reach and succeed in the careers to which they aspire.  Here's how Inspiring the Future can help. 
Click here to read our latest leaflet on the Gatsby Benchmarks. 
Benchmark 3 Addressing the needs of each pupil: 

Our highly successful Inspiring Women campaign has long sought to tackle gender stereotypes and we have a range of inspiring women who've chosen career paths that might traditionally be seen as for men. We are proud of the diversity of our volunteers and schools can now search for volunteers who are keen to talk about things such as inclusion or working with a disability.

 

Benchmark 4 Linking curriculum learning to careers:

 Schools can search for volunteers who use particular subjects in their job and invite them in to help motivate and inspire. Because our volunteers come from all walks of life, what about bringing in someone who uses STEM but as part of a theatre's backstage production crew, or business studies but is working for the NHS?

 Check out the icould.com videos and search by subject type to complement live activities.

 

Benchmark 5 Encounters with employers and employees

: Inspiring the Future is all about helping schools set up encounters with employers and employees and it's the research from our team at Education and Employers that helped make the economic case for doing this. Schools can use our interactive mapping to search for local volunteers and invite them to a range of activities

 or tick virtual and access the full database of volunteers

. 

Thousands of

 volunteers from apprentice to CEO are available nationally.

 

Benchmark 6 Experiences of workplaces: 

Last year we added new out-of-school activities to the menu of options for schools and volunteers to choose from. This included work place visits, work experience and job shadowing. We put the power in the hands of schools to determine what works for them and their students and our staff are here to support and provide case studies and guidance. We also regularly run showcase events at employers which schools in our network can attend.

 

Benchmark 7 Encounters with further and higher education: 

Volunteers specify whether they took an academic route, attended university and/or are able to speak about apprenticeships. Schools can therefore search for volunteers able to talk about a wide range of career pathways. We also have lots of volunteers working at universities on the system from Sheffield Hallam to University of Exeter. Our funded projects. including the ASK Project, also provide insights into vocational routes and connections to employers and training providers.

 
To sign up for free or if you'd like to know more about how we can help your school evidence the Gatsby Career Benchmarks, please email enquiries@inspiringthefuture.org