Primary Futures
What's it all about?
Primary Futures aims to raise aspirations and, by helping children understand the link between learning in school and the world of work, to motivate them to improve their academic performance.
Before you get started, why not have a read of our top tips for teachers using the system.
People from a wide range of professions and different backgrounds – from apprentices to CEOs, archaeologists to zoologists – give an hour to visit their local school where they talk about their job to enthuse the children about the opportunities open to them and how important literacy and numeracy are.
We know that for children of primary age, making a connection between what they learn in the classroom and how it relates to the world of work isn't easy. Primary Futures is intended to change that. Children who can see the relationship between what they are learning and the possibilities it opens up for them in later life are likely to be far more motivated achieve.
Getting the chance to meet a wide range of people doing different jobs is particularly important for those children from disadvantaged backgrounds who have few successful role models, either at home or in their local communities.
How does Primary Futures work?
Once your school has registered by clicking on the button at the top of the homepage and following the instructions you can contact a growing number of enthusiastic volunteers from different professions and sectors waiting to be invited into school to talk, work with and inspire your children. Teachers are able to view the profiles of different volunteers in their locality and contact any they would like to come into their school.
Watch a clip of a Primary Futures 'What's my line?' session in action with pupils and our volunteers at Priestmead Primary School in Harrow. This is one of the many things that schools can do easily using our free service for state primaries.
Feel free to talk to our Primary School Liaison team on 0207 566 4880 if you have any questions about how to register or how you can use Primary Futures in your school.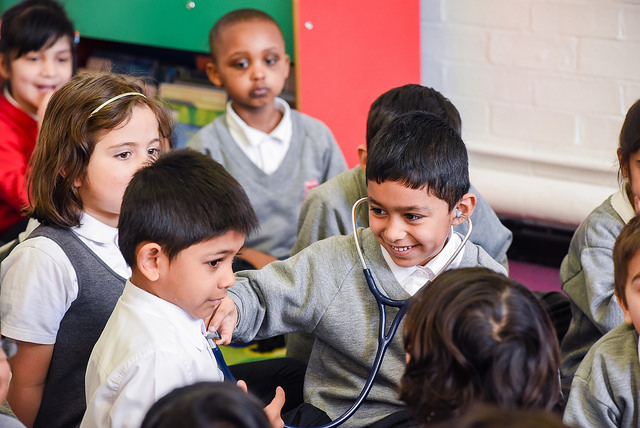 How does the matching work?
NAHT key contact
Steve Iredale, Project Manager, tel:07703673420  steve.iredale@naht.org.uk
Education and Employers School Liaison Manager
Charlotte Lightman – charlotte.lightman@educationandemployers.org
You can call Charlotte on 0207 566 4880.
Follow us on Twitter