Primary Futures
What's it all about?
Primary Futures aims to widen the horizons and aspirations of primary school children by helping them make the connections between their learning and their futures.
It is completely free to all state primary schools as part of the successful Inspiring the Future programme.
Through Primary Futures teachers can access a vast network of volunteers from:
all levels – apprentices to CEOs
all jobs – archaeologists to zoologists
all over the UK
Russell Hobby, the NAHT General Secretary says:
"For children of primary age, making a connection between what they learn in the classroom and how it relates to the world of work isn't easy. Primary Futures is intended to change that. It is not about specific careers advice, or fixing on one path for the future at age 11. It is about raising and broadening horizons about what can be achieved. Children also benefit from understanding the practical requirements of the working world so they can be motivated to improve their literacy and numeracy."
How does Primary Futures work?
Once your school has registered by clicking on the button at the top of the homepage and following the instructions you can contact a growing number of enthusiastic volunteers from different professions and sectors waiting to be invited into school to talk, work with and inspire your children. Teachers are able to view the profiles of different volunteers in their locality and contact any they would like to come into their school.
Who are the volunteers?
Our volunteers come from many walks of life and might be apprentices, graduate recruits or Chief Executives from small, medium sized or multi-national companies. Thousands of volunteers have already signed up to join us and dozens more register every day.
Every volunteer who has signed up has committed to providing at least one hour, once a year to a state school in their area. When volunteers join us they are asked if they would mind being approached by local schools to talk about their current job and why reading and numeracy in their primary school days were so important in achieving their current status. This helps to inspire the children as they can make the link between their learning and future opportunities. Volunteers also have the option of indicating their interest in becoming reading or number partners either as part of a session talking about their job or on a separate occasion.
Primary Futures 'What's my line?' session at Priestmead Primary School
Watch a clip of a Primary Futures 'What's my line?' session in action with pupils and our volunteers at Priestmead Primary School in Harrow. This is one of the many things that schools can do easily using our free service for state primaries.
Feel free to talk to our Primary School Liaison team on 0207 566 4880 if you have any questions about how to register or how you can use Primary Futures in your school.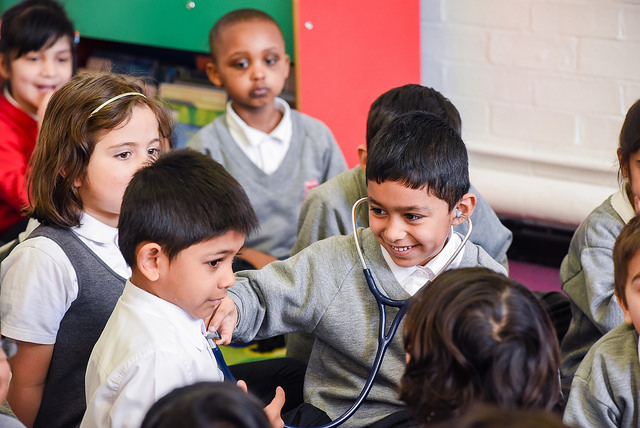 NAHT key contact
Steve Iredale, Project Manager, tel:07703673420  steve.iredale@naht.org.uk
Education and Employers School Liaison Manager
Charlotte Lightman – charlotte.lightman@educationandemployers.org
You can call Charlotte on 0207 566 4880.
Follow us on Twitter